Ad blocker interference detected!
Wikia is a free-to-use site that makes money from advertising. We have a modified experience for viewers using ad blockers

Wikia is not accessible if you've made further modifications. Remove the custom ad blocker rule(s) and the page will load as expected.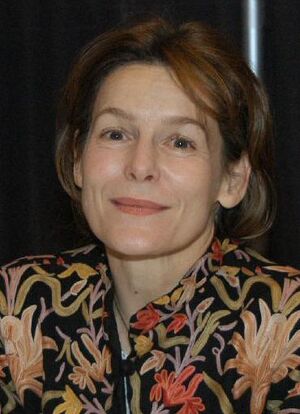 Alice Krige portrays the role of Morgana le Fay in The Sorcerer's Apprentice.
History
Alice Krige was born on June 28th 1954, in Upington, Cape Province, South Africa. She has been acting since 1976.
Filmography
| Title | Year | Character |
| --- | --- | --- |
| Vergeet My Nie (film) | 1976 | Welma de Villers |
| BBC: Play for Today (TV series) | 1979 | Emily |
| A Tale of Two Cities (television film) | 1980 | Lucie Manette |
| Chariots of Fire (film) | 1981 | Sybil Gordon |
| Ghost Story (film) | 1981 | Eva Galli/Alma Mobley |
| The Professionals (TV series) | 1982 | Diana Molner |
| Ellis Island ((mini) TV Series) | 1984 | Bridget O'Donnell |
| Wallenberg: A Hero's Story (television film) | 1985 | Baroness Lisl Kemeny |
| King David (film) | 1985 | Bathsheba |
| Murder, She Wrote (TV series) | 1985 | Nita Cochran |
| Dream West ((mini) TV series) | 1986 | Jessie Benton Fremont |
| Second Serve (television film) | 1986 | Gwen |
| Barfly (film) | 1987 | Tully Sorenson |
| Spies Inc. (film) | 1988 | Isabelle |
| Baja Oklahoma (television film) | 1988 | Patsy Cline |
| Haunted Summer (film) | 1988 | Mary Godwin |
| See You in the Morning (film) | 1989 | Beth Goodwin |
| Max and Helen (television film) | 1990 | Helen Weiss |
| The Strauss Dynasty ((mini) TV series) | 1991 | Olga |
| Amérique en otage, L (television film) | 1991 | Parveneh Limbert |
| The Hidden Room (TV series) | 1991 | Jennifer |
| Sleepwalkers (film) | 1992 | Mary Brady |
| Ladykiller (television film) | 1992 | May Packard |
| Beverly Hills, 90210 (TV series) | 1992 | Anne Berrisford |
| Judgement Day: The John List Story (television film) | 1993 | Jean Syfert |
| Double Deception (television film) | 1993 | Pamela Sparrow |
| Scarlet and Black ((mini) BBC TV series) | 1993 | Madame de Renal |
| Jack Reed: Badge of Honor (television film) | 1993 | Joan Anatole |
| Sea Beggars (film) | 1994 | Wife |
| Sharpe's Honour (television film) | 1994 | La Marquesa |
| Devil's Advocate (television film) | 1995 | Alessandra Locatelli |
| Joseph (television film) | 1995 | Rachel |
| Institute Benjamenta, or This Dream People Call Human Life (film) | 1995 | Lisa Benjamenta |
| Donor Unknown (television film) | 1995 | Alice Stillman |
| Star Trek: First Contact (film) | 1996 | Borg Queen |
| Hidden in America (television film) | 1996 | Dee |
| Amanda (film) | 1996 | Audrey Farnsworth |
| Habitat (film) | 1997 | Clarissa Symes |
| Twilight of the Ice Nymphs (film) | 1997 | Zephyr Eccles |
| Indefensible: The Truth About Edward Brannigan (television film) | 1997 | Rebecca Daly |
| The Commissioner (film) | 1998 | Isabelle Morton |
| Close Relations ((mini) TV series) | 1998 | Louise |
| Welome to Paradox (TV series) | 1998 | Aura Mendoza |
| Deep in My Heart (television film) | 1999 | Annalise Jurgenson |
| Molokai: The Story of Father Damien (film) | 1999 | Mother Marianne Cope |
| In the Company of Spies (television film) | 1999 | Sarah Gold |
| Becker (TV series) | 1999 | Sondra Rush |
| The Little Vampire (film) | 2000 | Freda Sackville-Bagg |
| The Calling (film) | 2000 | Elizabeth Plummer |
| Attila (television film) | 2001 | Placidia |
| Superstition (film) | 2001 | Mirella Cenci |
| Vallen (film | 2001 | Monique |
| Star Trek: Armada II (videogame) | 2001 | Borg Queen |
| Star Trek: Voyager (TV series) | 2001 | Borg Queen |
| Reign of Fire (film) | 2002 | Karen Abercromby |
| Dinotopia ((mini) TV series | 2002 | Rosemary Waldo |
| Six Feet Under (TV series) | 2002 | Alma |
| Reign of Fire (film) | 2002 | Karen Abercromby |
| The Death and Life of Nancy Eaton (television film) | 2003 | Snubby Eaton |
| Frank Herbert's Children of Dune ((mini) TV series) | 2003 | Lady Jessica |
| Threat Matrix (TV series) | 2003–2004 | Senator Lilly Randolph |
| The Mystery of Natalie Wood (television film) | 2004 | Maria Gurdin |
| Star Trek: The Experience - Borg Invasion 4D (short film) | 2004 | Borg Queen |
| Shadow of Fear (film) | 2004 | Margie Henderson |
| Dynasty: The Making of a Guilty Pleasure (television film) | 2005 | Joan Collins |
| Deadwood (TV series) | 2004 | Maddie |
| Silent Hill (film) | 2006 | Christabella |
| Law & Order: Criminal Intent (TV series) | 2006 | Gillian Booth |
| Stay Alive (film) | 2006 | The Author |
| The Line of Beauty (television film) | 2006 | Rachel Fedden |
| The 4400 (TV series) | 2006 | Sarah Rutledge |
| Lonely Hearts (film) | 2006 | Janet Fay |
| The Contract (film) | 2006 | Miles |
| Ten Inch Hero (film) | 2007 | Zo |
| Persuasion (film) | 2007 | Lady Russell |
| Heroes and Villains (TV series) | 2007 | Letizia |
| Solomon Kane (film) | 2009 | Katherine Crowthorn |
| Midsomer Murders: Secrets and Spies (TV series) | 2009 | Jenny Frazer |
| Skin (film) | 2009 | Sannie Laing |
| The Sorcerer's Apprentice (film) | 2010 | Morgana le Fay |
| Waking the Dead (TV series) | 2011 | Carol |
| Will (film) | 2011 | Sister Carmel |
| Page Eight (television film) | 2011 | Emma Baron |
| Spooks (TV series) | 2011 | Elena Gavrik |
| 'Jail Caesar (film) | 2012 | Pirate Captain |
| Thor: The Dark World (film) | 2013 | Eir |
| Tyrant | 2014 | Amira Al Fayeed |
| NCIS (TV series) | 2014 | Margaret Clark |
| The Syndicate (TV series) | 2015 | Lady Hazelwood |
| Partners in Crime (TV series) | 2015 | Rita Vandemeyer |