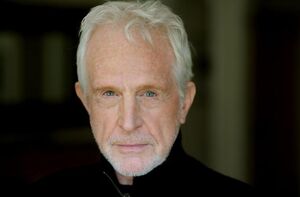 James A. Stephens
portrays the role of
Merlin
in
The Sorcerer's Apprentice
.
History
James A. Stephens was born on December 6th 1945 in Wolverhampton England
Filmography
Actor
Red Butterfly (2013) (post-production) as Vinny the Killer
A Novel Romance (2011) as Will Sparks
Pan Am (2011) (TV series) as Desk Clerk – "Pilot" (2011) … as Desk Clerk
The Sorcerer's Apprentice (2010) as Merlin
Sherlock Holmes (2009) as Captain Philips
In Treatment (2009) (TV series) as Paul's Dad – "Gina: Week Four" (2009) … as Paul's Dad
The Missing Person (2009) as Old Doorman
Calling It Quits (2008) as Victor
The Last International Playboy (2008) as Cubby Hardwick
Descent (2005) as Professor Byron
Little Black Dress (2005) as (short) Mr. Copeland
Law & Order: Special Victims Unit (2004) (TV series) as Harvey Cohen – "Bound" (2004) … as Harvey Cohen
All My Children (1993) (TV series) as Richard Fields
She's the Sheriff (1989) (TV series) as James – "Max Gets Trumped" (1989) … as James
The Hard Way (1979) (TV movie) as 1st Mercenary
Self
Deepest Dive: The Story of the Trieste (2011) (documentary short) as the Narrator (voice)
Ad blocker interference detected!
Wikia is a free-to-use site that makes money from advertising. We have a modified experience for viewers using ad blockers

Wikia is not accessible if you've made further modifications. Remove the custom ad blocker rule(s) and the page will load as expected.