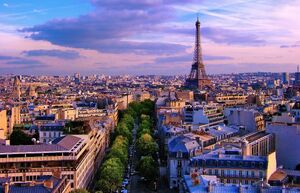 Paris is the capital and most populous city of the western European country of France. It is a location that Dave and Becky travel to via Balthazar's Eagle at the end of Disney's The Sorcerer's Apprentice.
Paris is the home of the most visited art museum in the world, the Louvre, as well as the Musée d'Orsay, noted for its collection of French Impressionist art, and the Musée National d'Art Moderne, a museum of modern and contemporary art. The notable architectural landmarks of Paris include the Notre Dame Cathedral (12th century); the Sainte-Chapelle (13th century); the Eiffel Tower (1889); and the Basilica of Sacré-Cœur on Montmartre (1914). In 2014 Paris received 22.4 million visitors, making it one of the world's top tourist destinations. Paris is also known for its fashion, particularly the twice-yearly Paris Fashion Week, and for its haute cuisine, and 3-star restaurants. Most of France's major universities and grandes écoles are located in Paris, as are France's major newspapers, including Le Monde, Le Figaro, and Libération.
Landmarks and Buildings
Eiffel Tower
Arc de Triomphe
The Lourve
Place de la Bastille
Trivia
It was also named after both the Celtic people called the Parisii and the Trojan prince named Paris.