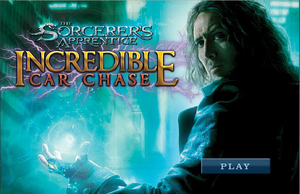 The Sorcerer's Apprentice: Incredible Car Chase is the 2nd online game based on The Sorcerer's Apprentice film.
Plot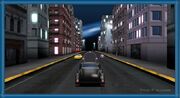 The plot of this game was based upon the car chase scene, albeit in this case,
Horvath
has planned to destroyed entire city with an unknown scheme. This prompt
Dave
 and
Balthazar
to give chase, and finally spotted Horvath whom drives a car that
has been shift into taxi form
. It is up to you to help them to subdue the taxi.
Gameplay
The gameplay was simple: You only need to avoid any hazards that Horvath throw your way and you must attack him once he within your reach. You will provided by 3 pickups(magic, time, and points), and car spell to shift your car to turn the tide of the chase.
Controls
Left: Turn Left
Right: Turn Right
Space: Using lightning arc
Switch numbers: 1 to 6 to shift the car into various forms.
Ad blocker interference detected!
Wikia is a free-to-use site that makes money from advertising. We have a modified experience for viewers using ad blockers

Wikia is not accessible if you've made further modifications. Remove the custom ad blocker rule(s) and the page will load as expected.